Toronto Film Magazine: About Shaba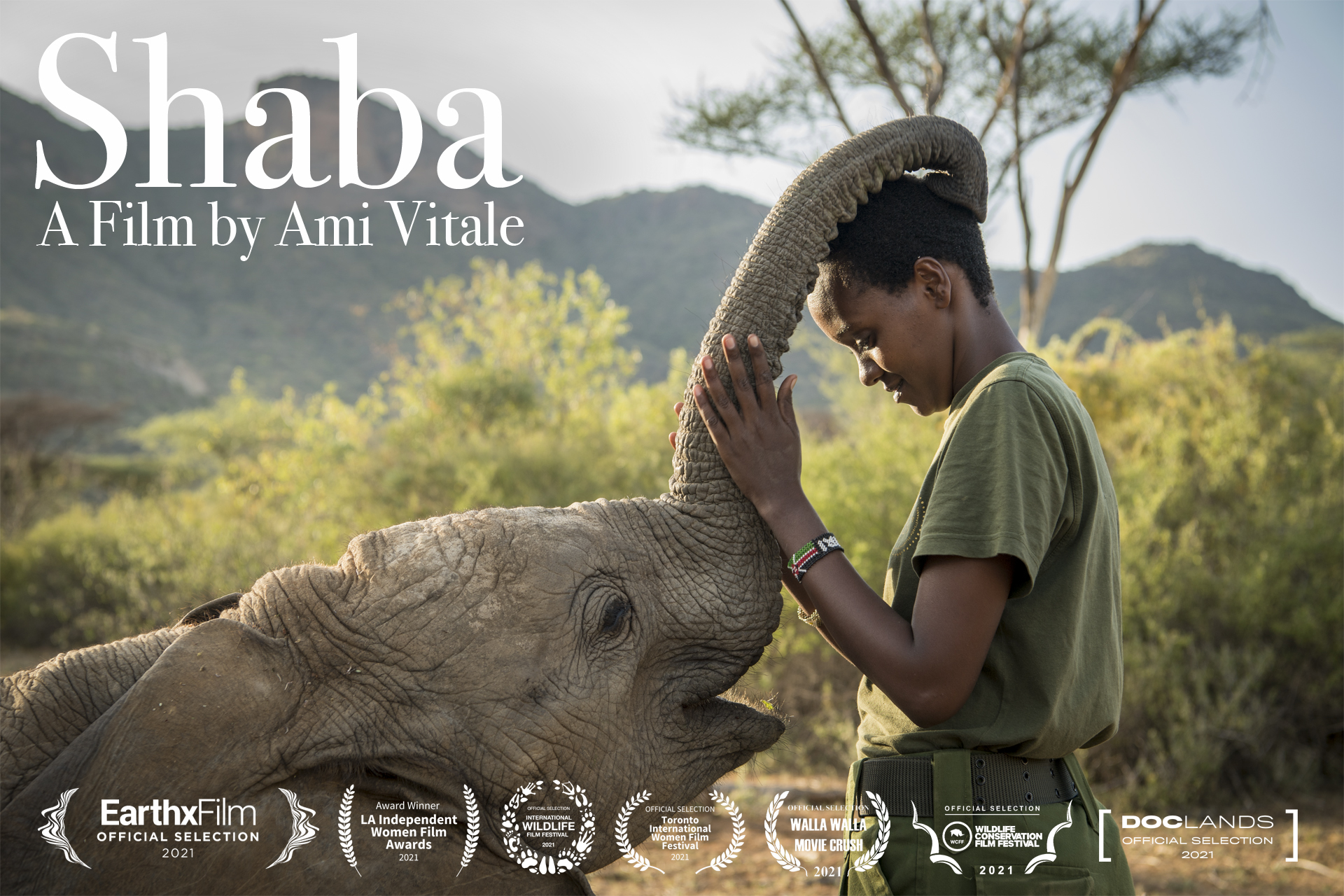 Ami was interviewed in May by Toronto Film Magazine about her filmmaking and her experience making Shaba.
In the mountains of northern Kenya, a Samburu community is doing something that has never been done before. They've built a sanctuary for orphaned elephants to try to rehabilitate them back to the wild. The project is not just changing local attitudes about elephants, it's changing attitudes about women too because the secret to Reteti's success is all because of the special bond between a group of local women keepers and one special elephant named Shaba.
Reteti Elephant Sanctuary is the first-ever indigenous community-owned and run sanctuary in all of Africa, where rescued orphaned elephants are looked after by local keepers from the Samburu community. They are rehabilitated and raised and then reintroduced back into the wild. The sanctuary is empowering young Samburu women to be the first-ever indigenous women elephant keepers in all of Africa. At first, the community didn't think there was a place for women in the workplace. Now, the success of these women elephant keepers is unlocking new possibilities and setting a powerful example for young girls, hoping to pursue their dreams.
What's happening there, without fanfare, is nothing less than the beginnings of a transformation in the way the Samburu people relate to wild animals. This oasis where orphans grow up, learning to be wild so that one day they can rejoin their herds, is as much about people as it is about elephants.
This is a personal story about a group of women and an elephant named Shaba who changed each other's lives. This film is a powerful reminder that we are a part of a complex world created over millions of years, and the survival of all species is intertwined with our own.
Reteti began in partnership with Conservation International who provided critical operational support and work to scale the Reteti community-centered model to create lasting impacts worldwide. It was our pleasure to speak to the director of Shaba, Ami Vitale.
How did you start making films and what was the first film project you worked on?
I began as a writer and photographer working for international publications like National Geographic magazine, so my background was already in strong visual storytelling. When the DSLR cameras evolved to include HD video, I pushed myself to embrace these new tools and learn to make short films. While photography is an incredibly powerful medium, films allow us to amplify important voices and stories in other impactful ways. Film brings these stories to life by truly listening to one another's stories. My first film, Bangladesh: A Climate Trap, documented the mass migration of people who are being impacted by climate change. Bangladesh faces a double threat: rising sea levels as a result of the melting ice caps and glaciers, and as the world warms, more extreme weather patterns. Monsoon rains in the region are concentrating into a shorter period, causing a cruel combination of more extreme floods and longer periods of drought. The poorest are the most affected by climate change but they are the least responsible for it. The country's future, however, and the fate of its impoverished millions, will be determined not necessarily by rising sea levels, but by the behavior of its citizens, neighbors and outside powers. Whether it becomes one of the great human tragedies of our time or a model for the future depends on these choices. Right now Bangladesh appears far away, but our planet's ecosystem is an intricate web and the lessons learned here are important for all of humanity.
What was the inspiration behind the making of your film?
For my next film, Shaba, I spent the last 6 years working with a Samburu community in northern Kenya who are rescuing orphaned elephants. What's happening at the Reteti elephant sanctuary, is nothing less than the beginnings of a transformation. This oasis where orphans grow up, learning to be wild so that one day they can rejoin their herds, is a story that is as much about people as it is about elephants. They are doing something that has never been done before, building the first ever indigenous owned and run sanctuary for orphaned elephants to rehabilitate them back to the wild. The film focuses on the indigenous women elephant keepers who are changing not just how the Samburu relate to wildlife but also how people relate to one another.
What is the most challenging aspect of being an independent female filmmaker in the film industry?
It's very difficult to get a foothold in the industry. Who you know matters and those doing the hiring end up excluding new talent. Perhaps it feels like a risk for them and so most of the opportunities are given to the same people who often happen to be men. I am working in the natural history space and most of my colleagues are all white men. Until our industry takes more chances to empower new voices, we will not have a multitude of perspectives.
How difficult is it to fund indie films?
In my experience, it is very challenging but I have been lucky and learned how to find people who believe in my projects. The challenge has been that I end up using so much time and energy away from the creative to find funding.
Please name three of your most favorite directors. How have they been influential in your work?
There are so many directors I admire but the ones that inspire me the most are the strong women directors who have carved a path in what can be an inhospitable industry. They have found ways to use their voices to create narratives that help us imagine a more equitable world. Their work is not just compelling and heartwarming but they use their crafts to create new narratives and reframe the old narratives.
Agnes Varda has always been a great inspiration. Her work resonates because she was also a photographer before she was a filmmaker. She had a photographer's eye and paid very close attention to everything that was in frame. All of her films were social commentaries, addressing feminist issues. She filmed womens stories, lives and struggles and had a profound impact on the way I see the world. A journalist once wrote that "she was so far ahead of the world that she had to wait for it to catch up to her."

Kirsten Johnson's 30 years of making films and her deep connection to the people she films has resonated deeply with me. She shows the importance of authenticity and intimacy in making films. Her own trajectory from being a camerawoman to director and filmmaker has personally been very inspiring.

Maïmouna Doucouré uses her voice and art to ask difficult questions and empower women. She takes stories we may think we understand and turns them on their head. Her work challenges Western audiences to think about how when we objectify women, we also oppress them.
Why do you make films?
Films are an incredible tool for creating awareness and understanding, a tool to make sense of our commonalities in the world we share. After a decade of covering wars as a photojournalist, I realized that all the stories about people and the human condition were always connected to the natural world. In some cases, it was the scarcity of basic resources like water. In others, it was the changing climate and loss of fertile lands but always it was the demands placed on our ecosystem that drove conflict and human suffering. Today, I have become a filmmaker and my work is not just about people. It's not just about wildlife either. It's about how small and deeply interconnected our world is.