VOICES Lectures @ Revolution Hall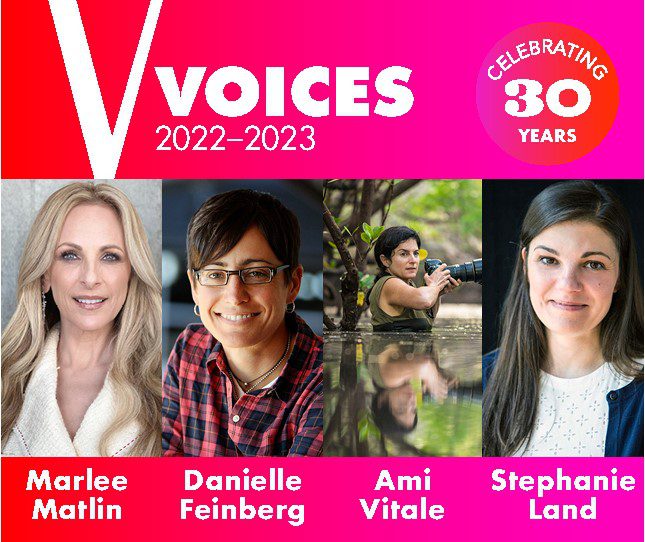 Four Amazing Women, Four Incredible Stories
VOICES Lectures turns 30 this season, telling the stories of fascinating women. VOICES is a 4-part lectures series sold as a series with individual tickets on sale one month prior to opening night pending availability. Great friends' night out!
Marlee Matlin
Wed., Oct. 12, 2022
Topic: An Evening with Marlee Matlin
Marlee is an Academy Award-winning actress and activist appearing in the Apple TV+ film CODA which won 3 Academy Award, including Best Picture. Marlee takes audiences through the highs and lows of her Hollywood career and journeys as an activist.

Danielle Feinberg
Wed., Nov. 16, 2022
Topic: The Art of Science: Bringing Pixar's Imagined Worlds to Life
Danielle Feinberg, Pixar's Director of Photography for Lighting, uses math, science, and code to bring wonder to the big screen. Go behind the scenes of Finding Nemo, Toy Story 3, Brave, WALL-E, Coco and more, to discover how Pixar interweaves art and science to create fantastical worlds where the things you imagine can become real.
Ami Vitale
Wed., Feb. 1, 2023
Topic: Wild Hope
Ami is a photographer, filmmaker, writer, and explorer with National Geographic. From the story of the last remaining northern white rhinos to the reintroduction of pandas to the wild, to Kenya's first indigenous-owned elephant sanctuary, Ami takes us on an odyssey of awe-inspiring stories that inspire us to protect nature. Author of Panda Love- the Secret Lives of Panda.
Stephanie Land
Wed., March 8, 2023
Topic: Maid: Hard work, Low Pay, and Mother's Will to Survive
Stephanie's bestselling debut memoir Maid: Hard Work, Low Pay, and a Mother's Will to Survive and the hit Netflix series of the same name recount her story as a single mom navigating the physical, economic, and social brutalities that domestic workers face, all while radiating a parent's hope and resilience.
These Events are All Ages and Reserved Seating.