Nadasoit Says Hello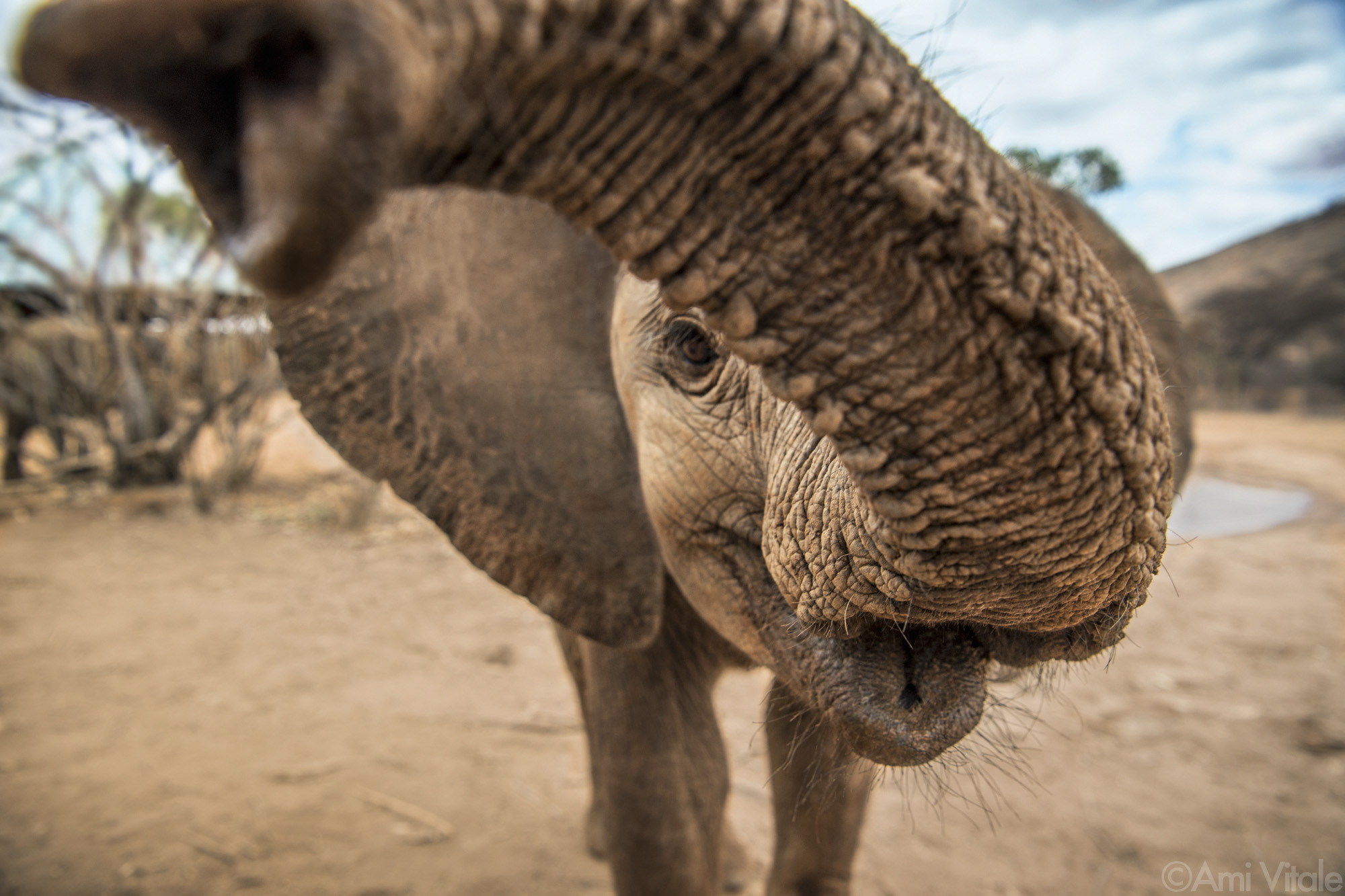 We are thrilled to announce a FLASH PRINT SALE for WORLD ELEPHANT DAY!! You have can pick up a signed print of this image in 4 different sizes starting at $425. [Flash Sale prices have been discontinued. Standard pricing is now in effect.]
Nadasoit (5-months-old in this photo) was rescued from a well and brought by helicopter to Reteti Elephant Sanctuary when she was only 2-weeks-old. She quickly glommed onto Shaba, the sanctuary's proxy-matriarch and an orphan herself. As Nadasoit grew older, she began to take-on some of Shaba's best characteristics, nurturing the younger orphans and teaching them all important tasks, like finding the tastiest bits of the browse or navigating tricky passages. Nadasoit is quickly approaching the age when Reteti will reintroduce her to the wild, so she may live as she was meant to. But we will all remember fondly the spirited fledgeling she once was with this photo.
Reteti Elephant Sanctuary is the first ever community-owned and run elephant sanctuary in Africa. It provides a safe place for injured and orphaned elephant calves to heal so that they can be returned back to the wild. The orphaned elephant, like Nadasoit, that are cared for by the Samburu community, are symbols of a new wave of thinking about wildlife and the environment, that goes far beyond traditional conservation methods, and dives deeper into the core value of what nature represents. You can be a part of it. 50% of profits from the sale of this print will go to support their work.
The prints are expertly crafted by the fine art studio of Paper & Ink with Epson's Ultrachome HDX archival pigment ink on Hahnemuhle's Sugar Cane Smooth archival paper which sources its material from sustainable resources. These stunning prints have all the benefits of digital imaging and none of the limitations inherent in the optical enlarging process.
The drawing for a Nikon D5600 two lens camera kit, a Think Tank Photo Retrospective V2.0 and a copy of this joyous image (or an elephant print of your choice) has now ended.
If you have any questions prior to purchase, please contact me .